Pay it Forward - Give a LinkedIn Recommendation
Jun 13, 2021
Have you ever given someone in your network a #LinkedIn recommendation? You should.
LinkedIn recommendations are similar to professional references, but the difference is that a LinkedIn recommendation is tied to someone's professional LinkedIn profile. By giving someone a recommendation, you are paying it forward, and by "it" I mean you're creating positive karma.
We all know the real power of LinkedIn is in our connections. Giving a well-deserved recommendation helps to strengthen those connections.
We all know that when you chose references on a job application, you're going to choose the three people who will give you a rock start reference. But as employers, we know that too. Plus, we don't always know what your relationship is with that reference, and how credible they are. The reference could be a brother in law, classmate, or neighbor.
LinkedIn recommendations are tied to a profile and that means it's their professional credibility on the line. I know that if I'm asked, I will think twice before giving a LinkedIn recommendation. If I don't really stand behind the person, I will not give them a recommendation. And I choose my words wisely if I am giving a recommendation.
All of that said, there are a LOT of great people in my network to whom I have given recommendations. Who comes to mind for you? Think of rock star team players. Phenomenal clients. Managers who could themselves write books on inspirational leadership. Or interns who have worked their tails off.
Here are a few selected recommendations I've given. I hope this inspires you to write someone a recommendation today. Also, while you're at it, check out their profiles and consider inviting these individuals to connect to you.
Make sure in your invitation you mention that you read their glowing recommendation from Brenda Meller on her blog. It will make their day.
An amazing keynote presenter. Every time I have the chance to hear Rita speak, I discover new things about myself. She has helped me strengthen my beliefs and confidence in who I am and who I wish to be. Rita is a powerful presenter who engages her entire audience. She draws from her professional experience and education to tell stories that are poignant and memorable, yet relatable. You will laugh and you will nod in agreement with her observations and philosophies. If you have the chance to hire Rita for a speaking event, do it. She is amazing.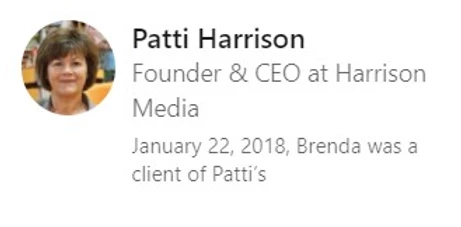 I began working with Patti and her team in 2008 and always had an exceptional experience working with Patti and team. Harrison Media provided all management and placement of paid media for Walsh for almost a decade. I would (and have) recommend Patti and Harrison Media to any marketer seeking to outsource their advertising placement. Assigning advertising management to an outside expert like Patti frees you up so you can focus on oversight of all areas of your marketing leadership. Plus, all Harrison does is advertising placement, and you have ready access to every member of your team. You're not paying for layers of account management as you would if you had your brand agency managing your paid media. Plus, outsourcing to Harrison Media provides a "checks and balances" system between your various agencies, to help you ensure you are optimizing your marketing investments. And lastly, outsourcing to Patti enables you to reduce cost as she and her team area able to negotiate rates due to the volume of advertising they handle for various clients. Patti and team are professional, knowledgeable, open to feedback, honest, direct, and helpful. They truly care about their clients. They bring you opportunities that help to support your marketing goals, and ask as gatekeepers for the seemingly endless stream of inquiries from advertising partners. I would highly recommend working with Patti Harrison, and will do so in the future for outsourced paid media.
I had the pleasure of working with Sherry while at Pitney Bowes. From the very first presentation to our group, Sherry was a true professional who worked to help realize the corporate vision at the business unit level.
Sherry is focused on employee engagement at all levels within the organization, while ensuring that all parties are in compliance with corporate guidelines. I am proud to have had the pleasure of working with Sherry. She is an asset to the organization.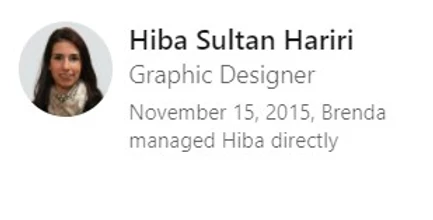 Hiba is an extremely talented graphic designer. I would highly recommend her for any position in graphic design. She has an impressive portfolio and a great eye for design. In addition to continually producing an impressive list of projects, often proposing multiple concept ideas,
Hiba is open to feedback to ensure her clients (internal or external) are satisfied. However, she is also able to professionally and tactfully push back when a requested change would violate brand standards. I enjoyed working with Hiba at Walsh and welcome the opportunity provide referrals for any positions where she applies in the future.