Want to Expand Your LinkedIn Reach? Remember this: Choose GREEN to be SEEN.
Mar 14, 2023
From a network contact:
"I realized that due to my settings, my posts on LinkedIn were only being shown to my connections. I opened to the public setting. Now people in HR all over the country are trying to connect with me. You know your stuff!"
I received this email from a client a while ago, and it reminded me of a simple setting that can make a HUGE impact in your LinkedIn success.
If you haven't check out your public settings on LinkedIn lately, I highly recommend you take a peek. You might think your profile is just fine, but your settings may prohibit you from coming up in searches or being seen by people not connected to you yet.
When I deliver LinkedIn coaching, I repeat several phrases to help you remember a few simple ways to optimize your LinkedIn presence. Here's one: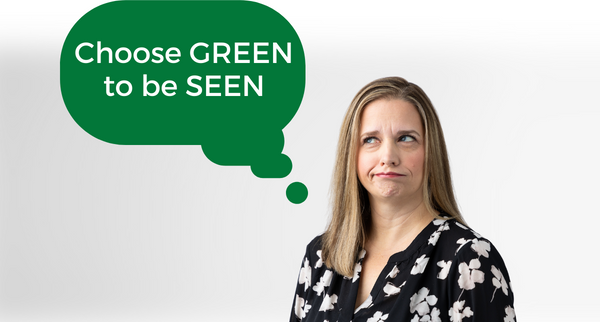 What I mean is this: if you want people to be able to find you on LinkedIn, you have to make sure your profile is set up for maximum visibility.
In your profile, click "Edit public profile & URL" in the upper right hand corner.
Make sure the button next to "Your profile's public visibility" is clicked ON. It should be blue.

BLUE SHOWS US YOU.
Check out the same view when I have this toggled off. This is showing me what the public (ie, anyone NOT connected to me on LinkedIn) will see if they visit my profile. HINT: THEY WILL SEE NOTHING. Uh oh...
Below this area, make sure your photo is set for maximum visibility, too. Choose "Public" for everyone to see your profile photo. Why? Well, many people will NOT accept an invitation to connect if you don't have a profile photo. Or if you have a photo, but it's not being shown to anyone other than your connections.
While you are in this area, make sure all the other areas are toggled to "Show" to ensure people can see these areas of your profile.
WHY? CHOOSE GREEN TO BE SEEN. If we're not yet connected, visitors CANNOT can view your profile.
Check your settings NOW to make sure your profile is set up for maximum visibility. Then, email me if this blog helped you to identify changes to improve your visibility. And free free to share this blog with others.
***************************************************
Need some help with your LinkedIn presence? I work with a variety of business professionals to provide individual LinkedIn coaching and consulting. Visit https://www.mellermarketing.com/linkedin, connect with me on LinkedIn (click MORE to add a note and mention this blog), or submit your request here.